Sorry for the delay in our blog, boy have we been busy. Like Ben said, I've been working a ton, just finished six 10-hour night shifts in a row. Can't seem to get back to a normal sleeping pattern, however I do another six nights starting Saturday. Whew!
Ben got to finally see moose up here! As we were driving out of our neighborhood, a shadow moved behind our neighbor's tree. As we turned back around to get a second look, another appeared from behind their driveway. They were even bigger than the ones I saw at work the other day. Their shoulders were about 6 feet tall, and their racks were probably 10 feet. Hopefully you can see them in the picture.
A moose!
As the winter is really setting in, more and more snow is falling and teasing us---we want to make a snowman but it's too cold and dry. But we sure can make snow angels!
Trees outside our place under the new snow
Snow angel havin fun!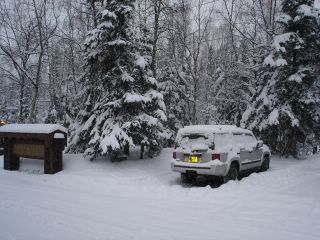 Lots of snow!
On our brief moments of free time, we've been ferviously searching for a place to call home. Having a very tight market up here has made it a bit of a challenge, however just yesterday we found a great house and quickly put an offer down. It was accepted that night! So if everything goes right, hopefully we will be in our new house sometime January.
Our new house!
As for Turkey Day, we had been so busy with everything, and since it was only us two that we didn't cook anything and decided to go visit the local Village Inn :). Not bad, got soup, turkey, stuffing, mashed potatoes, cranberries, and a HUGE slice of pie all for $11. Don't think we'll make a tradition out of it though, we sure missed all our friends and family. With it being quite cold out for the day, we decided to come home with some eggnog and rum to sit by our fire and plan out everything we want to do with our new house. Also to give thanks to all those who we miss....cheers!
Cheers!